C-41 is the current standard process for developing color film. As such, I felt it perfect for another new series for my blog. In this series, I will be highlighting creators of color and their current projects.
For the first installment of C-41, I spoke with Kim Hoyos shortly before the February 5 launch of her new project, The Light Leaks. Kim is a filmmaker and Rutgers University student, studying journalism and media studies. She has been featured on Amy Poehler's Smart Girls, contributed to the book Millenials of New York, held internships with NBCUniversal, GirlGaze, Inc, Femsplain, and somehow still has time to produce her own short films and get her homework done. With The Light Leaks, Kim aims to highlight, inspire, and educate female identified and non-binary filmmakers.
Kim Hoyos
Have you ever met someone with such a palpable excitement for their craft that you find yourself just wanting to listen to them talk about their work for hours on end? Kim Hoyos is one of those people. Speaking with her, the passion for storytelling, filmmaking and creating space for others fills the room. She gets you fired up, makes you think, shifts your lens, and provides a new perspective.
When I sat down with her for this piece, I found myself interested in how she got started with filmmaking and what it was that she loved so much about the medium.
I was a junior in high school, I was 16, and I was on a family vacation. I had begged my parents to buy me a camera so I could have it for the vacation. When we came back from it—I have a knack for always quitting things—I didn't want my parents to rub it in my face that I'd kind of just drop something again. So I started, I had always been editing random movies on iMovie, stop-motions from my MacBook's photo album and photo library.

I decided to make videos with iMovie and I started capturing details of my life every month. Obscure things like me drinking tea or writing on a piece of paper, just anything that was a snapshot of my month. So every month for one year I made a video and put it on Facebook and YouTube, that's what got me in the habit of packaging something.

While I was doing that, I started picking up more assignments in school and started having those be video projects, and I realized that I wanted to start doing documentary work. I really liked capturing things visually. Then when I was applying to colleges that was a defining factor in me deciding on what I wanted to study and what I was going to shape my essays on. I really found my identity as a filmmaker there.

When I got to Rutgers, I had enough documentary experience and enough of a passion that the film program wanted to guide me in a fiction route so I could get a handle on that. And that's when I started doing fiction.
I really want to tell stories about people's reactions to situations and to each other. I feel the way people interact with each other is really, really strange; especially in relationships, both platonic and romantic. I just feel like there are certain tacit agreements that people have and I feel like it's interesting how diverse those can be, and how those can depend on a situation and people's pasts. I don't know… I just really like to see how people interact with each other.
The thing I like most about film is that you're not just crafting the entire visual story but you're also crafting what the audience sees and learns and understands. The camera is guiding the audience. If you don't want someone to see a prop, or see a part of the room, or see the rest of a person's expression, that's all up to your jurisdiction. I feel like that also plays a huge role in how your audience reacts to it, and at what times, and how they feel about it at the end.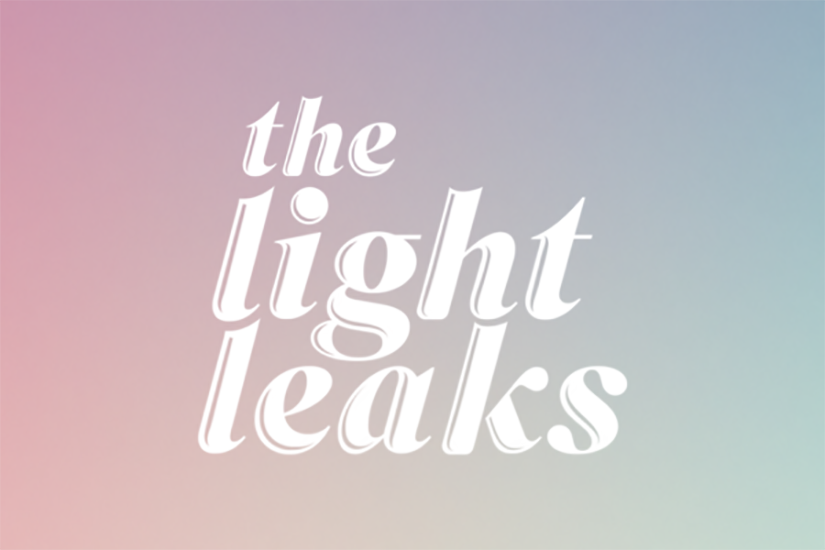 The Light Leaks
Outside of her own work, Kim has visions for how she wants to change the landscape of filmmaking and has recently begun laying the foundation.
The Light Leaks is pretty much the website I needed at 16, as much as I need it now at 21. I grew up on the internet, whenever I'd find photographers or any sort of creative woman I admired, I always found a zine that they contributed to, or a collective that they were a part of, or a website that they wrote for; but I never really found any space for filmmakers or any medium that they could really spotlight themselves on and educate themselves with or anything like that. So what I want to do is create that space.

I want it to be a standalone website that has static tabs for resources including non-profits to follow and organizations to join and keep up with, news organizations that cover female and non-binary filmmakers, any film festivals to join, grants to search for—and then the structure of two entries a month, either one with a rising or more established filmmaker, and then two to three think pieces a month.

The entire focus of the site is just to be a space for empowerment, inspiration, education, and film.
Filling the Void
Speaking with Kim, it became clear that while there may have been many avenues for highlighting female creatives, there was often a gap when it came to filmmaking. She gathered her inspirations and experiences and set out to see how she could use them to create a platform she felt was desperately necessary.
It was definitely a combination of being inspired by the work of others and knowing that I want to do something similar, but something that I knew was lacking. I'm a really big fan of Rookie Magazine, which is like super well known—their founder, Tavi Gevinson, started a blog at 12 and it just grew from a fashion blog to a teenage girl blog, and now covers everything from music to social justice to makeup tips, everything for the modern teenage girl. I've been following her for a while and she's my age, which is ridiculous and crazy at the same time, she was Teen Vogue's cover girl in September. She's just—she's it.

So, I was thinking about how I had always loved Rookie but they had no video section.

I was thinking about an internship I had over the summer with an organization called #GirlGaze. They are an initiative to find young female photographers on Instagram and help connect them to corporate sponsorships and corporate jobs. They wanted to define "girl gaze" and only feature female photographers.

When I interned with them I saw that they were doing such great things but, once again, it was just photo, no video.

The last facet of why I wanted to do this is because when I went to college, I had so many women's classes and so many media classes, I really understood and learned how stereotypes start to form in media and how that goes back to the creators of the media. If I didn't have the education or the opportunity of having an education at a university, then I wouldn't have had that, so I want to make the resources I would use in papers—the academic journals, the publications, the reports—all that stuff, available to aspiring filmmakers.
Outside of not having a space to discuss or thoroughly highlight film, Kim also felt it important to avoid the exclusive nature of some other communities.
One of the main problems that myself and my friends saw was that so many websites and so many groups seem so exclusive of having new people who don't have their work at a certain level, or who aren't creating certain kinds of aesthetics. I wanted it to be detached from all of that in the sense that you could be at any level in your filmmaking and still be able to participate and learn from the site and be featured on it, regardless of genre or skillset or anything.
And though established to create a platform for female and non-binary filmmakers, Kim sees more for The Light Leaks.
I want it to not just be seen as a site for female or non-binary filmmakers because I feel like everyone can benefit from some media literacy, branching out of their comfort zone with who they are consuming media from. That's definitely something I'd love for people to see with the site. I just want more of an awareness of what people should be supporting or what people should be learning more about as a whole.
When we spoke the site had not launched yet, but I asked Kim is there had been any gratifying moments yet. After telling me how the project caught the eye of Teen Vogue's editor-in-chief, Elaine Welteroth, she narrowed on one of her favorite reactions so far.
One tweet we received was from this girl inAustralia and she was like "I found your site through Amy Poehler's Smart Girls, this is so necessary as a female filmmaker. I can't wait to follow and subscribe to everything." She had followed us on Facebook and liked us on Instagram and all the platforms, so I think that people are just resonating with it so far even though it's not an actual concrete thing but they are believing in it and following it and enjoying the content. It's something that's been pretty beautiful.
The Light Leaks is "an actual concrete thing" now having officially launched on February 5th, featuring interviews with Hannah Rimm of the animation distribution company GKids, and the 17-year-old visionary, Lauren Tepfer.
Follow The Light Leaks on Twitter, Facebook, Tumblr, and Instagram to stay up to date with what is coming up next and what you should be excited for.
You can also keep up with Kim on her Website, subscribing to her YouTube channel,  or following her on Facebook, Instagram, and Twitter.